Babies are little humans who can get picky about their food, especially when it comes to eating veggies. How could we get them to enjoy yummy, natural and fresh ingredients? That's how Grocer Jar was born – an online baby store that is the sole distributor for Double Happiness, a healthy and hassle-free baby food brand, and Dale & Cecil, plant-based hypoallergenic milk for kids and adults.
Healthy and Nutritious Double Happiness
The founder of Grocer Jar, Qian Yee, decided to bring Double Happiness to Singapore after having difficulty trying to coax her son to eat veggies. Double Happiness is a Malaysian brand that was started by her friend, with a mission to provide healthy diets for children. To Qian Yee's surprise, her son really enjoyed eating the vegetable pasta from Double Happiness. Hence, Qian Yee decided to bring Double Happiness to Singapore so that kids here have more nutritious food options. Today, Double Happiness has grown from producing just pasta to a wide range of choices, including cereals, pancake premix, herbal soup, broth powders, desserts, and more. It pretty much covers everything that your little ones want in their daily meals.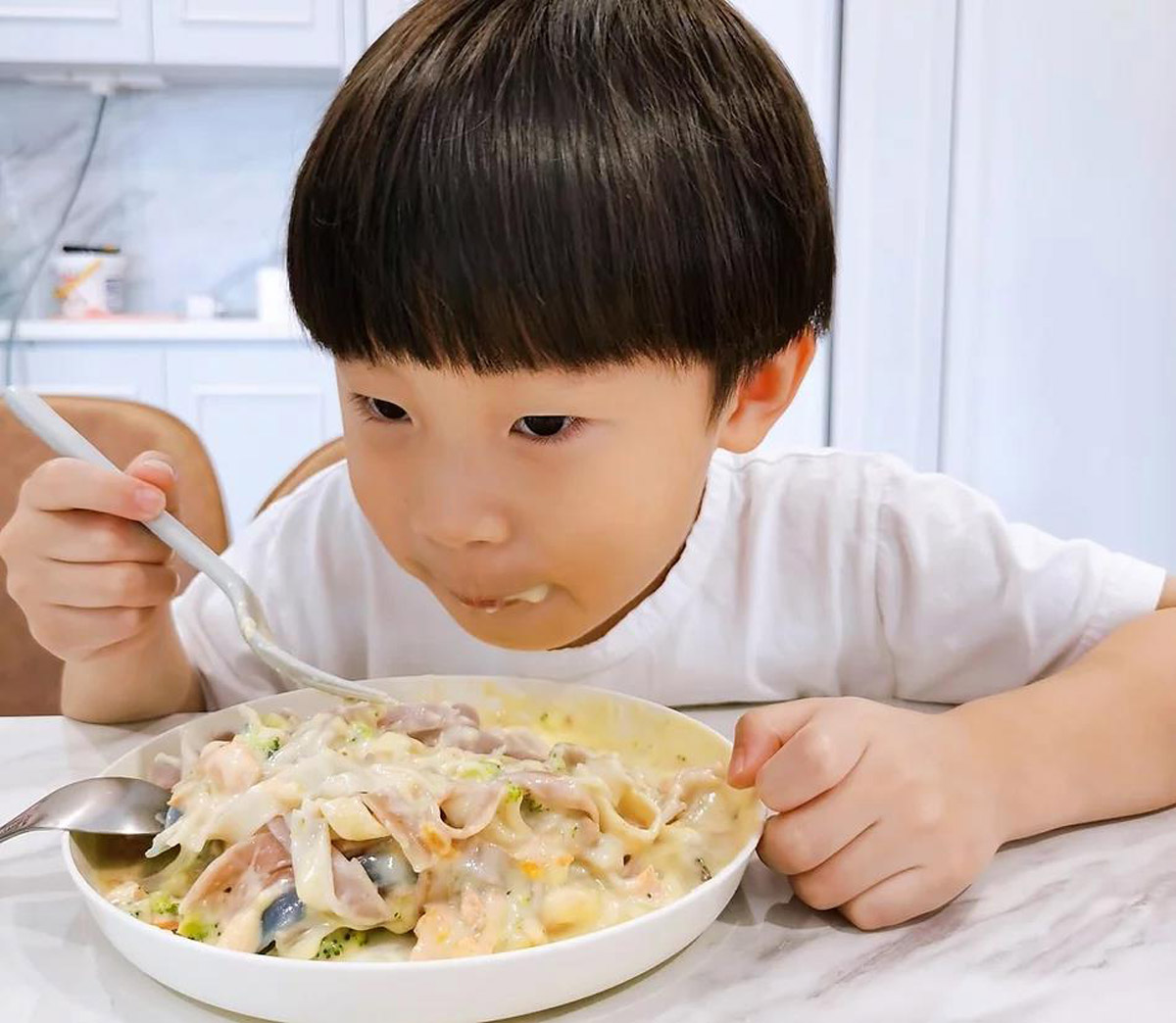 Double Happiness aims to be your one-stop baby food provider. Instilling healthy eating habits in our young helps them for life! Hence, the fun and healthy products at Double Happiness use only fresh and natural ingredients, with no preservatives, colouring, MSG, or trans fat. Bringing to you the right ingredients with the right taste and texture! Finally, the meals are hassle-free, easy to cook and prepare, saving loads of time for busy working parents.
Double Happiness Walnut Brain Booster Soup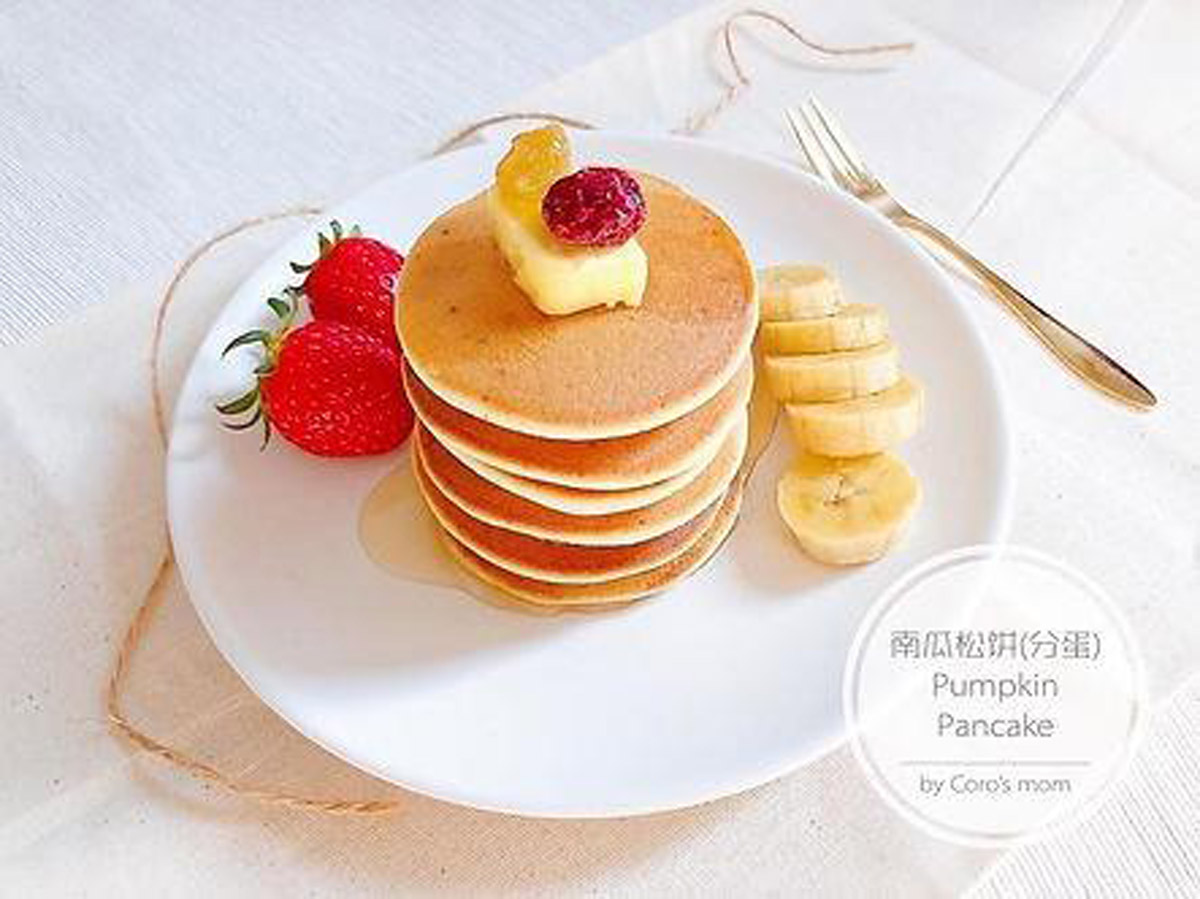 Double Happiness Pumpkin Pancake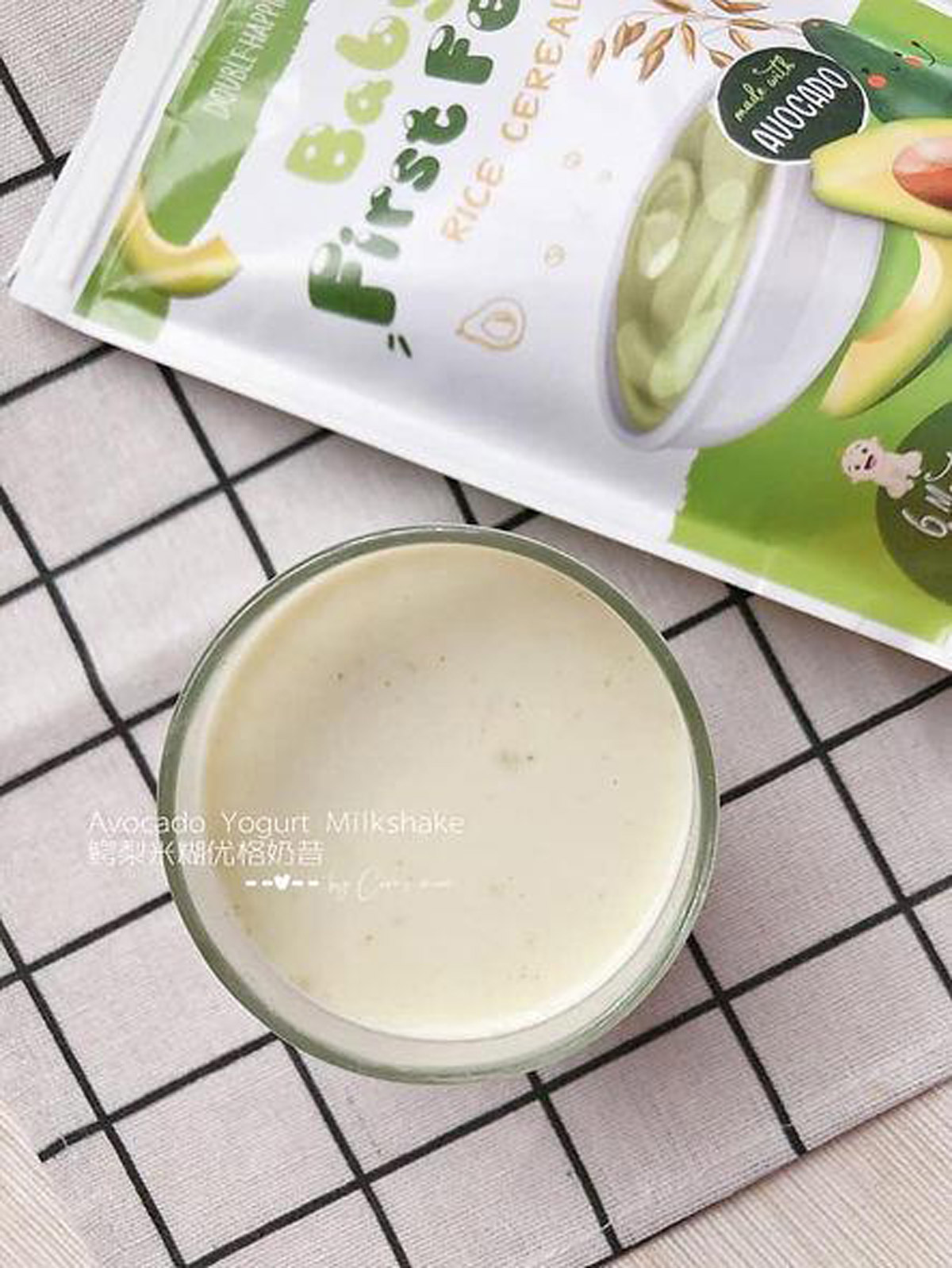 Double Happiness Avocado Yogurt Milkshake
Here is a simple Double Happiness recipe that is really easy to prepare!
1. Easy Colourful Pumpkin Pancake
Ingredients:
• Double Happiness Pancake Premix 40g
• Fresh milk 50g (add more fresh milk if you don't want to add egg)
•  Half an egg
•  Butter/oil 10g
Cooking instructions:
1. Mix all the ingredients together and stir well
2. Preheat the frying pan and wipe some oil on the pan
3. Scopp 1 tablespoon of mixture on the pain and flip when bubbles start to form.
Voila! Your pumpkin pancake is ready to be enjoyed by your little one. Pancake premixes are suitable for babies 8 months old and above. Great for breakfast or as an afternoon snack.
All the products at Double Happiness are meant to be easy to cook and consume, so head on down to the Grocer Jar blog for more recipes.
Wholesome Plant-Based Milk For Babies – Dale & Cecil
Grocer Jar also stocks Dale and Cecil, a plant-based milk brand specially formulated in response to the growing number of babies who suffer from food allergies. The founder of Grocer Jar, Qian Yee, was tired of breastfeeding but found that her son and daughter rejected almost all the milk powders that she bought. Thankfully, Qian Yee found Dale and Cecil, hypoallergenic plant-based milk that is vegan friendly. Suitable for kids above 1 year old and also adults, Dale & Cecil is natural, safe, yummy, and great for brain development.
Why plant-based milk?
MIWAKO Plant Milk is a great alternative to cow milk and soy milk. Soy and dairy products are categorized as major allergens. Some parents might be concerned about the phytoestrogen contained in soy, as overconsumption of it may carry risks. The good news is that Miwako Plant Milk has no added lactose, dairy, soy, and gluten. The main ingredients are millet, quinoa, and brown rice, which are super nutritious, rich in fibre, and allergy-friendly. Miwako Plant Milk is also very easy to digest, hence the nutrition is easier to be absorbed by babies.
What is GABA (Gammaaminobutyric acid)?
GABA comes from germinated brown rice, and is a functional component mainly found in brain cells. Studies have shown that GABA is valuable in helping mental focus, learning ability, stress and anxiety reduction via a calming effect, blood sugar level balancing, and the improvement of kidney and liver function.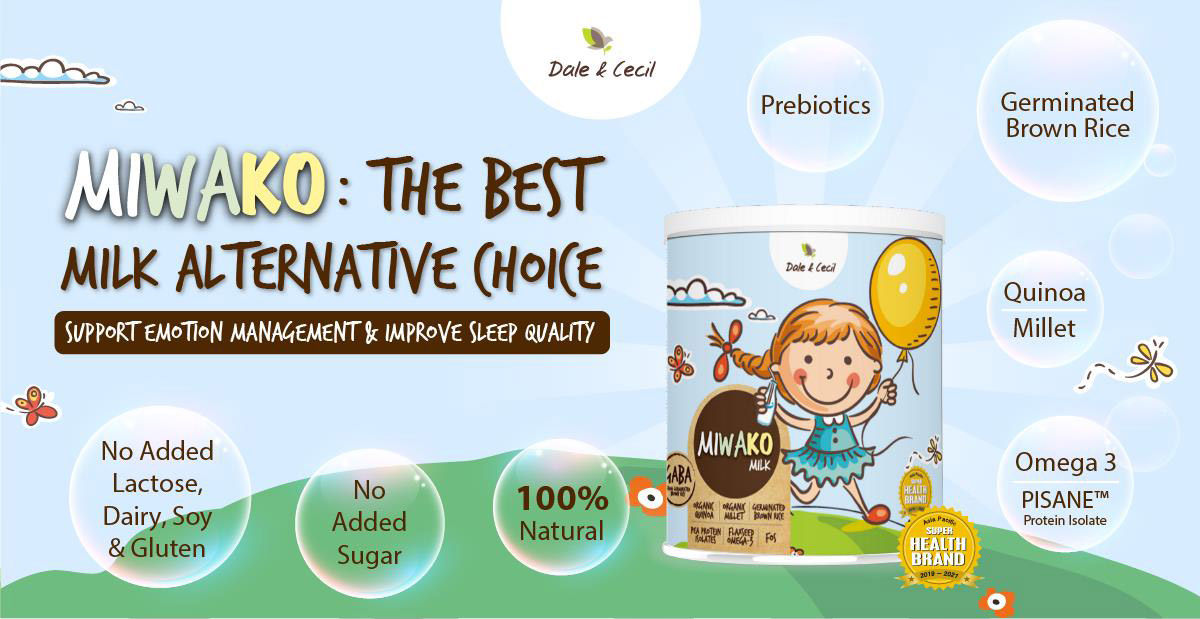 Miwako Plant-Based Milk is 100% natural and suitable for the whole family from babies 1 year and above to adults. It is a great choice if you are looking for allergen-friendly milk as it does not contain ingredients like dairy, lactose, soy,  gluten, egg, peanut, and nut. Miwako contains Choline and Omega 3 to nurture the development of a healthy brain and nerves. The milk also helps in stress reduction, mood improvement, better sleep quality, and tasks management.
What are the ingredients in Miwako Plant-based Milk?
Here is a transparent view of the ingredients in Miwako:
Quinoa, Millet, Pea Protein Isolates, Germinated Brown Rice, Brown Rice, Fructooligosaccharides (FOS), Sunflower oil, Flaxseed oil
These highly nutritious and easily digestible ingredients result in a protein-rich, gluten-friendly, and fibre-rich diet to support learning ability, daily growth, and development.
Miwako A+ Plant-based Milk
check out Miwako A+ Plant-based milk! Also 100% natural, this option is scientifically formulated for kids between 1 to 6 years old. Again, this is an allergen-friendly choice with no dairy, lactose, soy, gluten, egg, peanut, and nut. Like the original Miwako milk, Miwako A+ also contains Choline and Omega 3 for healthy brain and nervous system development and helps in stress reduction, sleep quality, mood improvement, and task management. Most importantly, Miwako A+ is enriched with 22 essential multivitamins and minerals specifically for kids between 1 to 6 years old.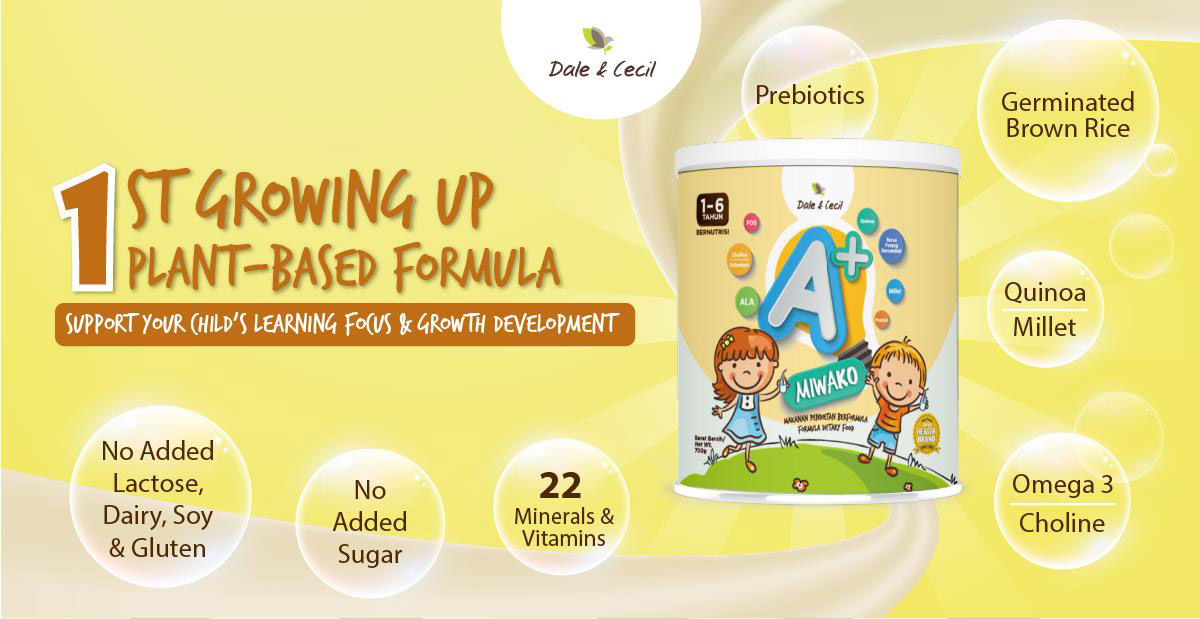 What are the ingredients in Miwako A+ Plant-based Milk?
Let's take a look at the awesome ingredients in Miwako A+:
Pea Protein Isolates, Quinoa, Millet, Brown Rice, GABA from Germinated Brown Rice, Vanilla bean powder, Inulin, Minerals (Calcium, Choline, Magnesium, Iron, Zinc, Potassium, Iodide, Sodium Selenium) and Vitamins (A,B1, B2,B3, B5, B7, B9, B12, C, D, E, K), Fructooligosacharides (FOS), Sunflower oil, Flaxseed oil
The FOS prebiotic and dietary fibre is great for gut health, while the high digestibility means less colic for your child. This complete nutrition plant-based formula milk is enriched with essential nutrients and vitamins, making it the perfect everyday drink of choice.
Wait no longer! Head over to Grocer & Jar to buy fresh, wholesome, nutritious, and easy to prepare food for your little ones and the whole family today.
Popular Products
• Convenient soup pack. Gently nourish, boost your child's immunity with traditional Chinese herbs. Suitable for kids above 1 year…

$

7.00

Store in a cool and dry place. Keep in fridge once opened.

$

13.60

• Convenient soup pack. Gently nourish, boost your child's immunity with traditional Chinese herbs. Suitable for kids above 1 year…

$

7.00