Eczema can be a painful and difficult condition, especially for babies and children. Allergens and inflammation can cause them to scratch their delicate skin vigorously, often leading to bleeding, scarring and sensitivity.
Such was the case for the Tan family, where Qiao Qing and Gerald had their lives revolve around itchy skin and sleepless nights, engaged in a constant battle to stop their young daughters from ripping their delicate skin apart. In an attempt to protect their children's delicate skin, they began sewing mittens onto their clothing, in hopes of reducing the damage done by their nails.
And so, the idea for Little Warriors began!
Little Warriors specialises in clothes for babies and children with eczema, allergies or sensitive skin. They launched their first collection of Eczema Protective Sleeves in February of 2021, designed especially for children below four years old. They also have an upcoming collection to be launched in January next year which features wider colour selections as well as the new Protective Pants for older children.
LIttle Warriors knows the daily pain children endure is difficult to watch, however, they believe it is also this pain that makes them stronger than ever before.
"Eczema gave our babies extraordinary strength. Eczema turned our babies into Warriors."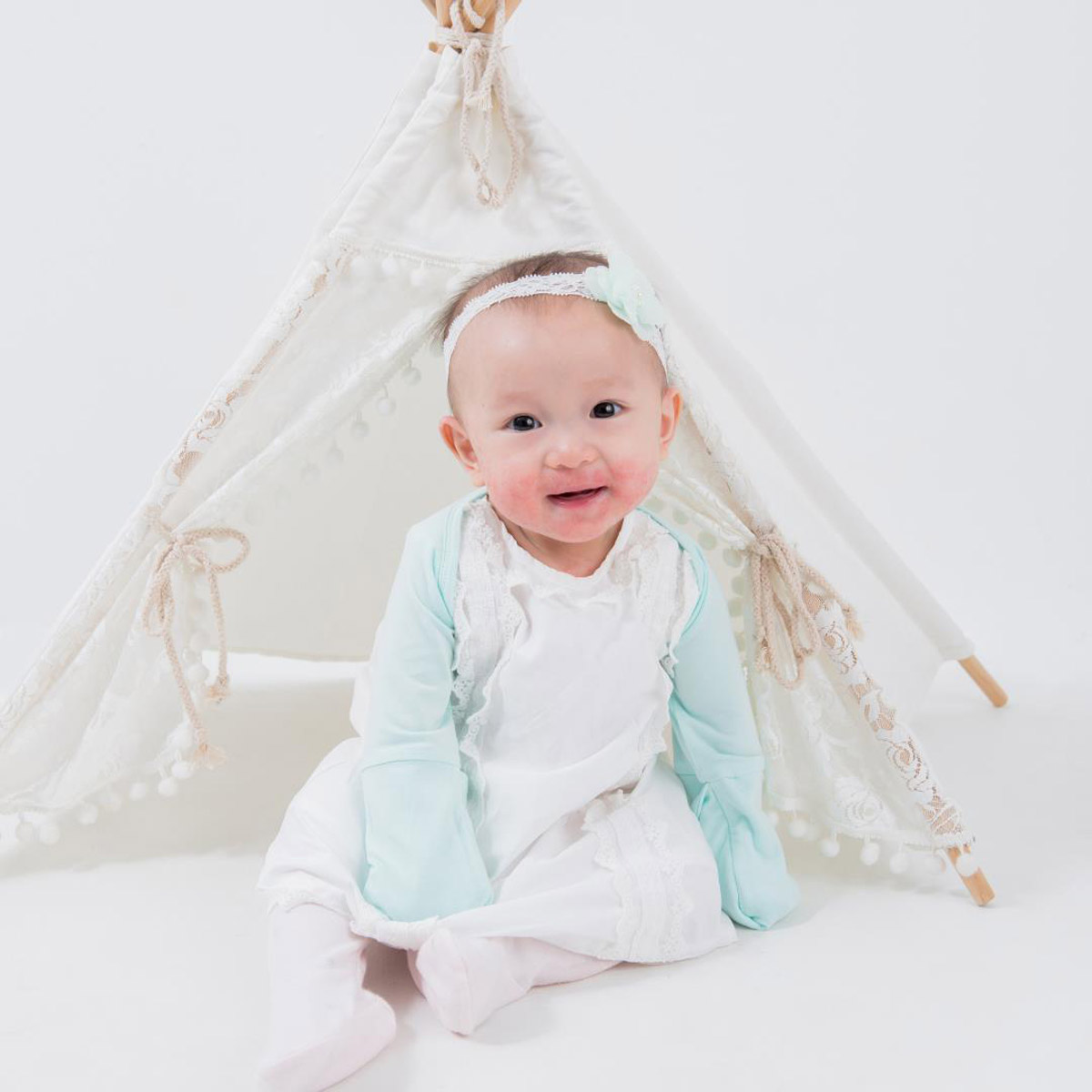 The mint green Eczema Protective Sleeves provide babies with relief
Superior Comfort
The clothes from Little Warriors are made with superior comfort in mind:
Not only do the Eczema Protective Sleeves reduce the damage on a child's delicate skin from scratching, but the soft bamboo fabric used is breathable and perfect for the hot Singapore weather. The attached mittens are reinforced with a layer of 100% cotton to provide padded protection against sharp fingernails. Its unique design even allows them to be flipped open during meal or play times for your child's convenience.
Little Warriors ensure that their apparel contains no tags, buttons, Velcro strips or embroidery that could irritate delicate skin. All of their clothes have been tried and tested by real eczema warriors.
In fact, Little Warriors goes all the way to ensure that their products are the cream of the crop! A funny behind-the-scenes practice of theirs involves rubbing and scratching fabric samples against their own skin to simulate how the cloth would feel against a child's eczema-prone skin. A sample is only accepted after passing this rigorous test!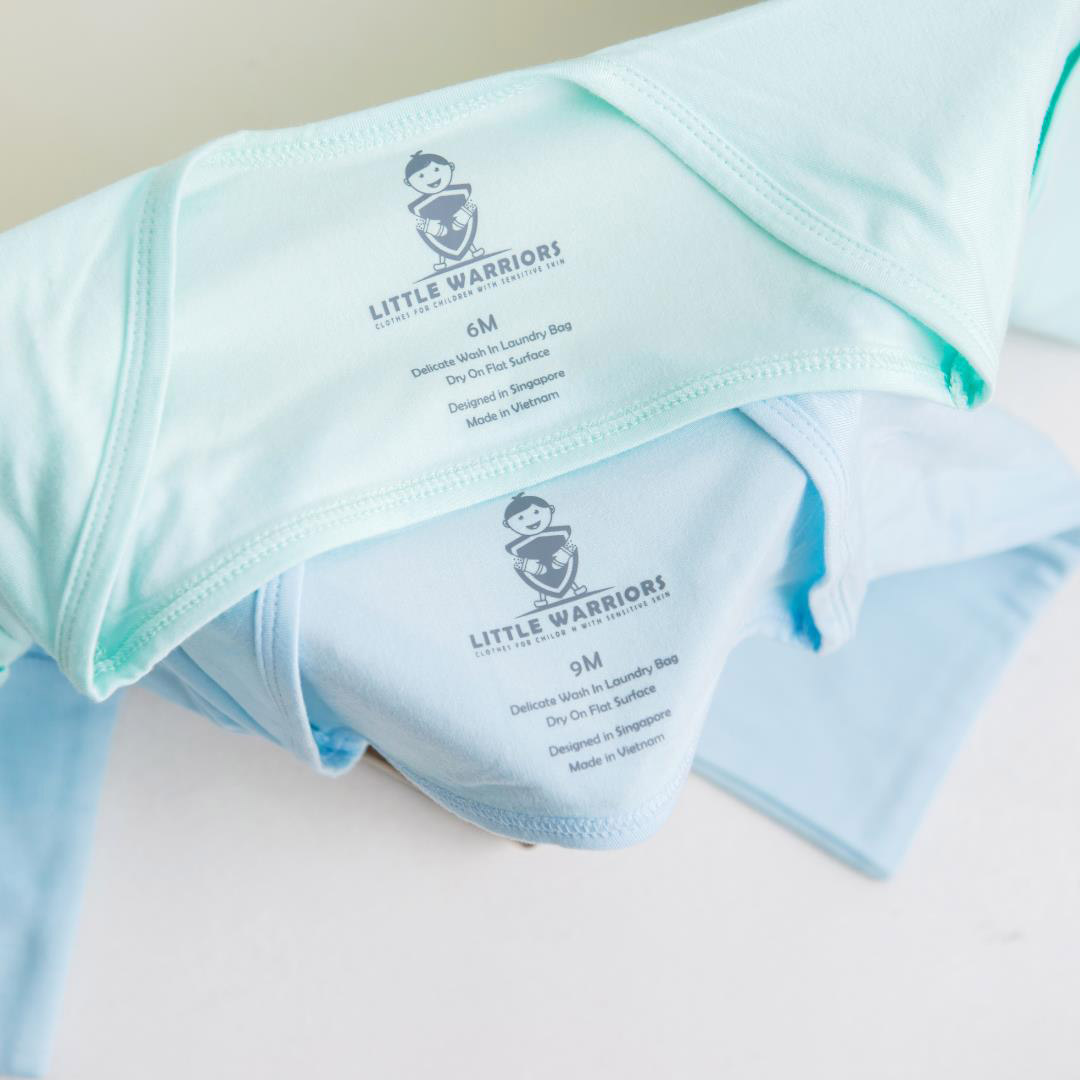 The Eczema Protective Sleeves in mint green and powder blue
 Your Family's Relief, Guaranteed
Since the launch of Little Warrior's Protective Sleeves, they have received many grateful messages from parents of itchy babies. Many customers quickly repurchase more, once they realise how much comfort they bring to their kids.
Many parents have reached out to Little Warriors to share their feelings in helping their child through their eczema journey. The exhaustion due to their children not sleeping well due to their itching, the anxiety, and even the heartbreak from seeing their scratched, bloodied skin, are feelings Little Warriors empathises with.
"I've been using the mittens for my baby every night and it really helps! If not, there would be bloody scratches and rawness on his ears," writes one user. "He sleeps through the night with it too!"
Another satisfied customer writes, "My little one has had bad eczema since young and has never enjoyed uninterrupted sleep without having to scratch until he bleeds. Little Warriors' protective sleeves are a lifesaver! He managed to have a great night's sleep and not toss around, scratching all over."
For another parent, the Protective Sleeves did not just prevent skin damage, they allowed their child to grow in other areas.
"The sleeves are a must wherever we bring our daughter," they write. "She tends to forget to scratch once her skin is covered. I was worried she may sweat or heat up but nope, she was hardly bothered by it. Since wearing the sleeves, she has less desire to scratch and can instead focus on skills like crawling and learning to walk."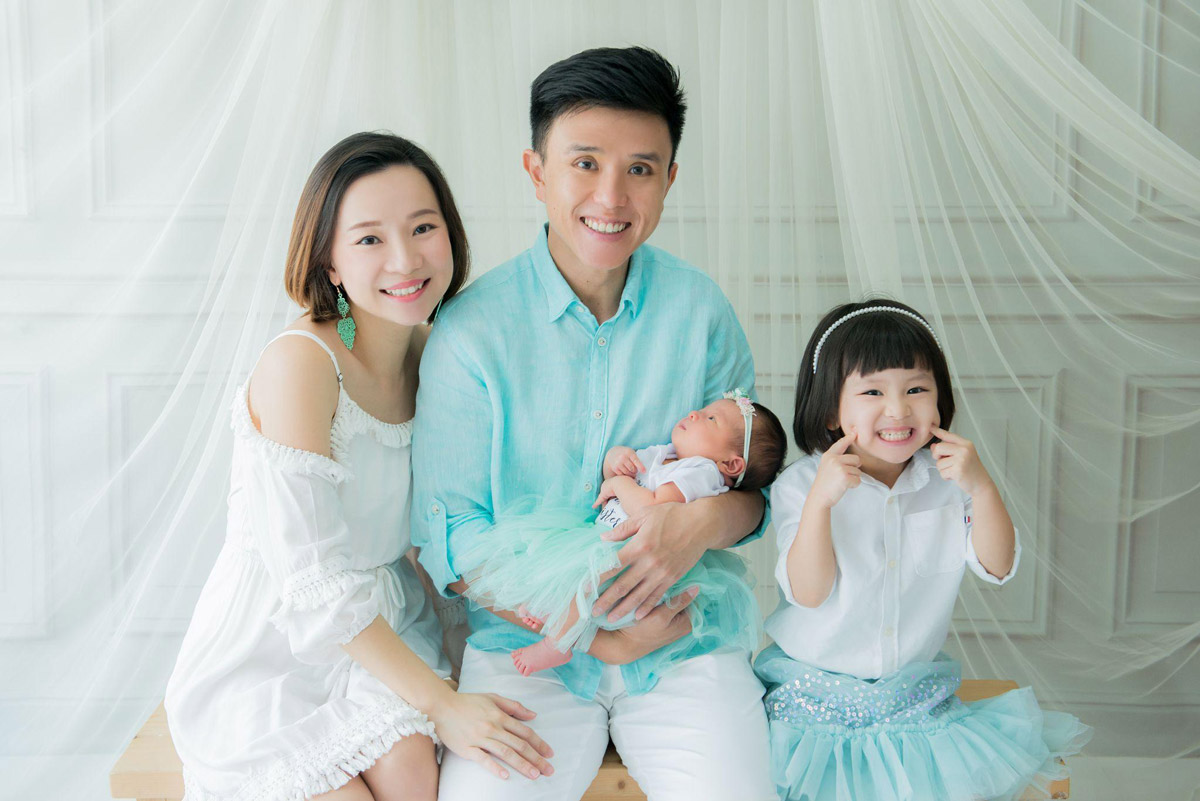 Yong Qiao Qing and her husband, Gerald Tan, with their little warriors
Managing Eczema
After more than five years of dealing with their daughters' eczema and speaking with many parents of similarly itchy children, Qiao Qing and Gerald have come to the conclusion that healing itchy skin starts from within.
In addition to topical treatments, understanding how a child's body reacts to allergens and triggers is essential in managing eczema.
Oftentimes, allergens come from food. A clean, nutritious diet is the basis of a healthy body and therefore, healthy skin. It may be helpful to keep a journal detailing what a child eats (or what their mother eats if the child is breastfed), as well as what topical creams or ointments are applied on the child's skin, in order to better understand what impacts their eczema.
By carefully tracking their children's food intake in addition to monitoring their skin condition, Qiao Qing and her husband slowly aided their little warriors' journey back to health.
For Little Warriors, it is also incredibly important to empower children to manage their own health and bodies. They believe being in control of one's choices has amazing effects on one's mental health, and allows a child to emerge from a victim of his or her body and become a warrior.
The first step to achieving this empowerment is acknowledgement. Qiao Qing herself practices this with her children.
"Whenever my children start scratching, I would first acknowledge the itch and let them know that I understand the discomfort they were in," she says. "Then I allow them to decide how to manage the itch. It can be through a simple choice of the type of lotions or creams that they want to apply. Or, they can decide if they want to take a shower or have a snack to distract themselves from the itch."
Little Warriors shares many useful eczema management tips on their Instagram and Facebook accounts.
Childhood eczema does eventually come to pass. Until then, Little Warriors is here to make every child's journey a little easier.
These skin-loving protective sleeves work for both sleep and play! Designed for the little ones with eczema or allergies that…

$

30.00